By Tyler Durden at ZeroHedge
Exactly one year ago, on December 23, 2014, we wrote that the housing recovery remains cancelled due to 6 months of downward revisions. As we revealed, "for the period May – November, the initial new home sales prints amount to 2.779MM houses. Post revision, the number plunges by 22% to 2.168K."
It was about as glaringly obvious as it could get: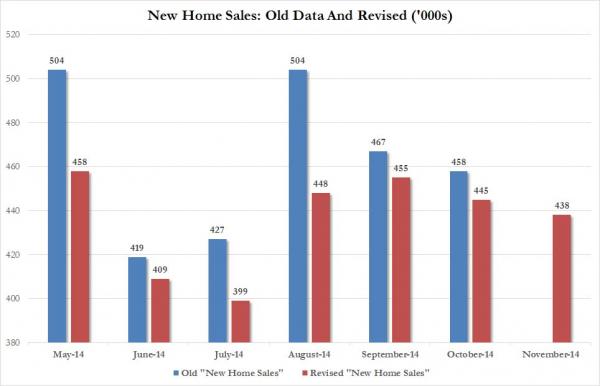 Fast forward to today when moments ago the Dept of Commerce "pleasantly surprised" everyone when it reported that November new home sales, while missing expectations of a 505K print, "rose" to 490K from 470K in October . Great news: the housing recovery is on track… Just one problem: the original October print was 495K, which if maintained would have meant a decline of 5K in November.
So we decided to look at previous reports to see if the Commerce Dept had tried to pull a fast one again as it did last year, and lo and behold, not only were there downward revisions between the November and October "government data", but as the chart below shows, over the past 5 months the data has been consistently "revised lower" with every incremental release.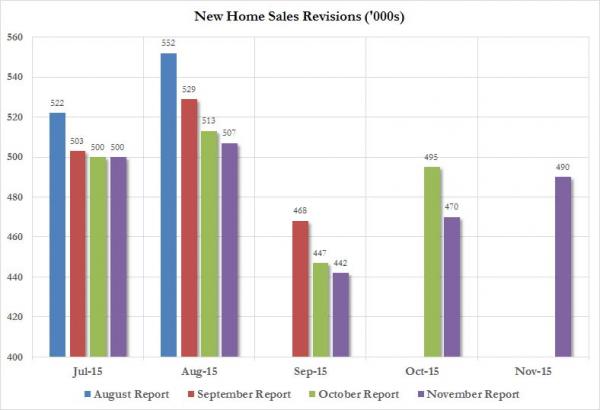 Source: The Housing Recovery Was Just Cancelled (Again) Due to 5 Months of Downward Revisions – ZeroHedge