By William Mauldin
China's economic roller coaster is taking a bite out of American exporters, hurting U.S. industries ranging from mining equipment to cotton producers and adding to criticism that China is getting more than it gives in trade with the U.S.
The U.S. shipped just $42.4 billion to China in the first five months of the year, or 8.2% less than the year-earlier period and 13.8% below the peak export year of 2014, according to the Census Bureau.
The export drop comes as China's economy, while slowing, is still officially expanding at more than 6% a year. That growth is driven in part by the mountain of goods—worth $174 billion so far this year—the U.S. imports from China. That is quadruple the size of its exports to China during those months, and only slightly less than 2014 levels.
The slowdown in U.S. exports could exacerbate accusations in the 2016 presidential campaign that China is engaged in unfair trade practices. Donald Trump, the presumptive Republican nominee, has cited the trade gap with China in threatening to slap new tariffs on the country if he becomes president.
U.S. companies have grown increasingly vocal in criticizing Beijing for allegedly dumping subsidized steel and other products on world markets and for refusing to open major parts of its economy to foreign investment—a roadblock that almost certainly hinders two-way trade.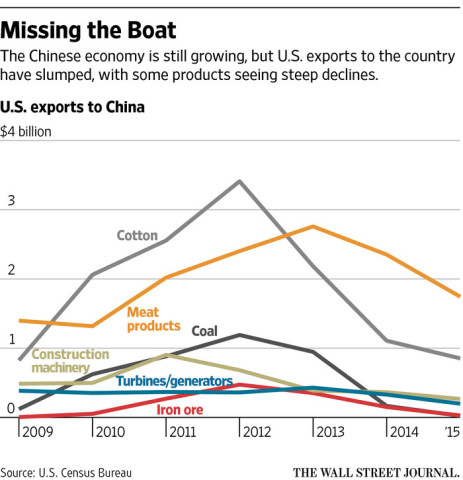 Many American exporters are suffering because China's growth is much less dependent on heavy industry—the expanding electricity output and the steel production for infrastructure that has defined China's emergence as an economic power in recent years. Instead, Chinese consumers and technology companies are playing a bigger role in the economy, but not always in ways that help U.S. suppliers.
At the same time, China is supplying much more of its own needs overall with domestic production of pork, cotton, coal and semiconductors for phones and other electronic gadgets, sometimes produced in China by American firms.
Meanwhile, a strong dollar has made American suppliers less competitive compared with those from other countries.
A growing list of American industries and farm groups is looking for customers outside China to make up for the drop. High on the list is the U.S. cotton industry.
After spikes in cotton prices hurt its textiles-and-apparel industry in 2010 and 2011, China's government began buying millions of bales of the fiber, building stockpiles that appeared to violate World Trade Organization principles, according to U.S. officials. Then, in 2014, China's government stopped buying cotton and started selling the stockpiles to domestic spinners, according to trade group Cotton Inc.
"Now they're relying more on domestic supplies, whatever they grow plus what they had stored up," said Jon Devine, senior economist at Cotton Inc. in Cary, N.C.
American cotton growers sent just 2.65 million bales to China in the last harvest year, compared with 6.43 million bales in the 2011-2012 season, according to the group.
China has also diversified its sources for coal, among other commodities, tapping countries such as Australia as well as its own domestic supply, which fuels its growing power needs and provides coke for the steelmaking process. The shift comes as China's own appetite for steel wanes, resulting in heavy exports from the country that have depressed world prices.
For the U.S., that lower steel demand means American coal exports to China dropped to 208,000 metric tons last year, compared with 9.1 million metric tons in 2012, according to the International Energy Agency.
American iron ore mines used to be a small but significant supplier to China, but this year exports have dropped to zero.
Weak steel demand amid low global commodity prices is also hurting U.S. exports of mining equipment to China, which are down 77% this year compared with 2013, and construction machinery, where exports are down 53% over that period.
The world's largest heavy-equipment maker, Caterpillar Inc., is fighting for market share in China with Japan-based Komatsu Ltd.and homegrown Chinese rival Sany Heavy Industry Co., among others.
Still, modest government stimulus spending on infrastructure projects has lifted the company's spring equipment shipments there for the first time in at least three years, Caterpillar chief executiveDoug Oberhelman said in April, after visiting the country in March. Cat declined to comment further, citing a quiet period ahead of earnings.
Another U.S. giant hit by China's slowdown is General Electric Co. U.S. exports of turbines and generators to China have fallen 46% this year compared with 2013, although 2016 is shaping up to be better than last year for those products.
Plagued with pollution in many cities, China is shifting its energy mix away from coal. A G.E. spokesman said the company is selling an increasingly diverse set of energy products in China, with more than 100 gas turbines and 200 wind turbines provided in the past decade.
Write to William Mauldin at william.mauldin@wsj.com
Source: U.S. Exports to China Shrink, Especially for Heavy Industry