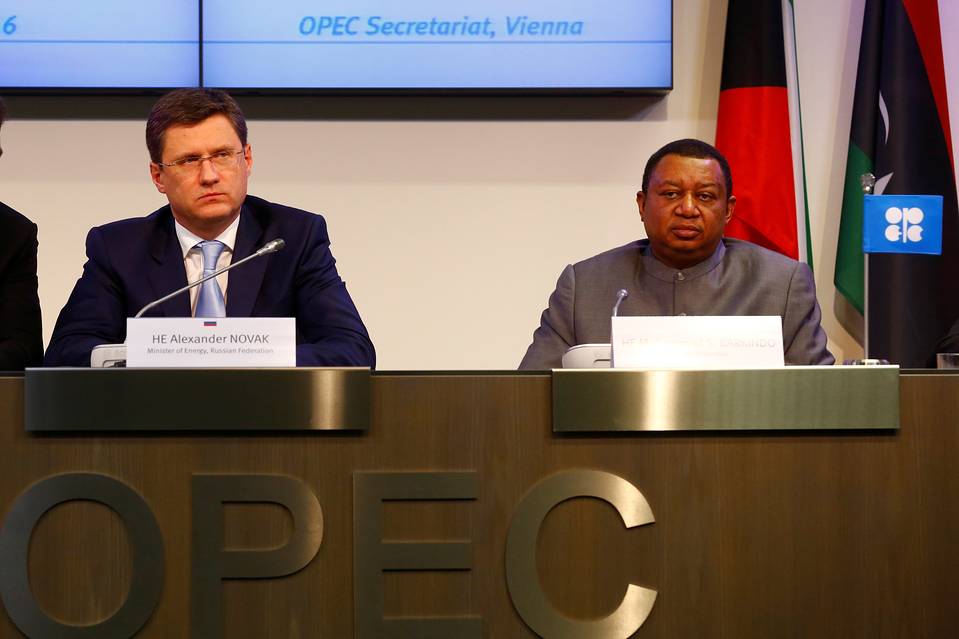 By Benoit Faucon and Summer Said at The Wall Street Journal
Updated Oct. 29, 2016 2:50 p.m. ET
VIENNA—A weekend marathon of talks between major oil producers failed to finalize plans to implement an output cut, threatening the viability of an agreement reached last month to reduce production by as much as 2%.
The discussions held at the headquarters of the Organization of the Petroleum Exporting Countries were supposed to pave the way for a detailed proposal on how to cut production by between 200,000 and 700,000 barrels a day, about 1% to 2%.
The proposal is scheduled to be submitted to OPEC's 14 member nations on Nov. 30.
The talks were also aimed at securing coordinated cuts with producers outside OPEC, such as Russia, the world's largest oil producer.
Instead, Iraq and Iran's insistence on exemptions emerged as a big sticking point Friday as those members refused to agree to cut their burgeoning output.
Iran wants to keep pumping until it reaches 4.2 million barrels a day, an increase of about 400,000 barrels a day from current levels, according to an Iranian oil official. Iraq says it needs to keep pumping to generate revenue for an intensifying war against Islamic State.
Iraqi officials didn't respond to requests for comment Saturday. But Saudi Arabia—the group's kingpin and regional rival to Iran—insists Tehran should shoulder at least part of OPEC's efforts in rebalancing markets, according to oil officials in the group. Exempting Iraq and Iran would put pressure on Saudi Arabia, OPEC's largest producer, to cut more output than the kingdom wants to.
Members also squabbled about the numbers that should be used as a reference for any curb with Saudi Arabia favoring independent estimates which are disputed by Iraq and Iran.
The tensions spilled over into a meeting on Saturday between OPEC representatives and producers outside the cartel to discuss their participation in the tentative deal. The Algiers agreement was also dependent on producers outside the group joining the curbs. But the six non-OPEC countries, which included the world's largest oil producer Russia, refused to commit to any detailed curbs.
Speaking to reporters as he exited the meeting, Senior Brazilian oil official Marcio Felixsaid "it was just conversations," arguing OPEC members had yet to agree on their own individual quotas. Kazakhstan's deputy energy minister, Magzum Mirzagaliyev, also said members of the cartel had yet to agree between themselves and with others on what data to use. "We have to agree on the real numbers," he said. Still, Mr. Mirzagaliyev said non-OPEC producers had decided to meet regularly with the cartel, with the next summit due Nov 26.
But the disagreements within OPEC prompted the cartel's leader to warn of dire consequences for the oil industry if the group doesn't move forward with a plan to reduce output. In a speech here Saturday morning, OPEC Secretary-General Mohammad Barkindo said "the recovery process [in rebalancing oil markets] has taken far too long and we cannot risk delaying the adjustment any further."
A glut in oil inventories, caused by a flood of production from both OPEC and the U.S., has depressed crude prices for more than two years, hurting petroleum-dependent economies from Venezuela to Saudi Arabia.
—Selina Williams contributed to this article.
Original article: OPEC Fails to Finalize Proposal to Implement Production Cut