Moments ago the Philadelphia Fed tweeted something that is actually spot on, namely that the American economy is only as resilient as the American consumer.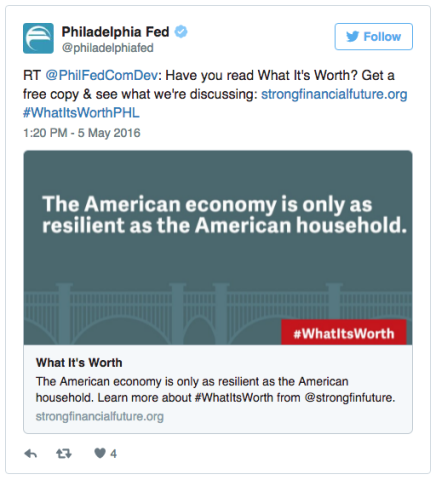 Which if one looks at the state of retail companies reporting same-store sales results today, is a problem because they all missed.
As Bloomberg notes, each of six companies, among which L Brands, Zumiez, The Buckle, Costco, The Cato Corporation and Fred's – that reported April comparable sales missed estimates compiled by Retail Metrics.
Among the reasons given by retailers for the weak comps included shift of Easter to mid-March this year from early April last year, and the old standby, rainy weather.
The worst miss was at Buckle, which fell short of estimates by a whopping 660bps, followed by Cato's miss of 500bps; L Brands' Victoria's Secret also missed by 500bps; on the other end, Zumiez's April comp. sales missed estimate by just 60bps, the narrowest miss of group.
Investors promptly punished the companies, sending the stock of iconic L Brands Inc., owner of the Victoria's Secret and Bath & Body Works chains, plunging the most in six years to the lowest level since November 2014.  Others did not do better: ZUMZ -8%, BKE -6%, COST -2.1%, CATO -1%, FRED -6%.
Which should not come as a surprise: considering in the past several months we have seen bankruptcies by such iconic retailers as American Apparel, Caché, Wet Seal, Quiksilver, and Pacific Sun, Eastern Mountain Sports, Sports Authority, and just yesterday, Aeropostale, perhaps it is becoming clear why the state of both the American consumer, and the American economy, is as poor as it appears to everyone, if not those happy few who see nothing but green shoots and "fiction peddlers"…
http://www.zerohedge.com/news/2016-05-05/true-state-us-consumer-all-six-retail-companies-reporting-april-comp-sales-missed