By Tyler Durden at ZeroHedge
Earlier this month, we profiled yet another casualty of slumping trade, falling commodity prices, and mediocre, double-adjusted economic "growth": trucking. 
More specifically, we highlighted the dramatic November decline in Class 5-8 orders. The numbers for Class 8 – those trucks with a gross weight over 33K pounds and which, you're reminded, make up the backbone of U.S. trade infrastructure and logistics – were a veritable disaster. 
"Class 8 orders of 16,600 were below our channel check based 22,000-25,000 expectation, dropped 59% yr/yr and 36% from October (vs. the ten-year average 7% decrease in November from October), and was the weakest order month on a seasonally adjusted basis since August 2010," Wells Fargo exclaimed, before adding that "clearly, November Class 8 orders slowed to weak levels and were beneath expectations." 
Yes, "clearly":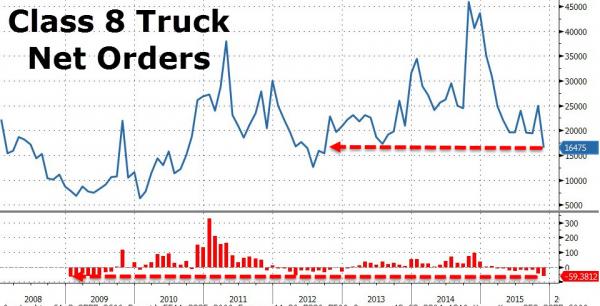 And a bit more from FTR: 
FTR has released preliminary data showing November 2015 North American Class 8 truck net orders at 16,475, 59% below a year ago and the lowest level since September 2012.  This was the weakest November order activity since 2009 and was a major disappointment, coming in significantly below expectations.  All of the OEMs, except one, experienced unusually low orders for the month.
"Based on what we were seeing, we thought freight and truck sales would stay strong through the end of 2015 and into 2016, with a downturn beginning at some point in the second half of 2016," Kenny Vieth, president & senior analyst with ACT Research Co told FleetOwner. "Falling commodity prices means freight is drying up and that is freeing up [truck] capacity. Meanwhile, exporting less means manufactures like Caterpillar can't sell as many machines overseas, so they start producing less and that reduces freight further," he added.
Well, don't look now, but Morgan Stanley is out with its latest "truck stop" (i.e. a freight transportation update) and the picture is not pretty. Have a look at the following three graphics for the bank's Truckload Freight Index broken down by flatbed, dry van, and reefer: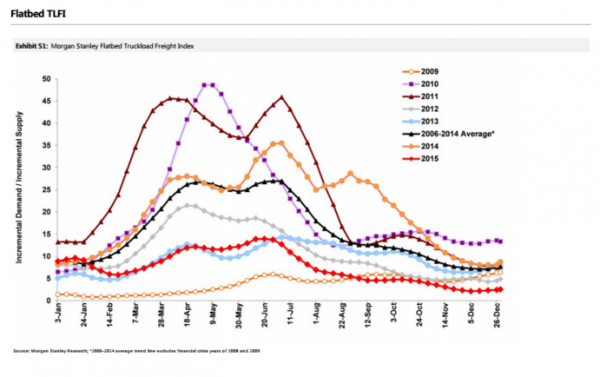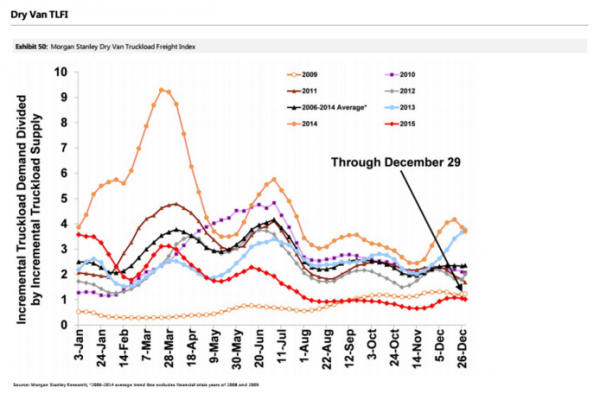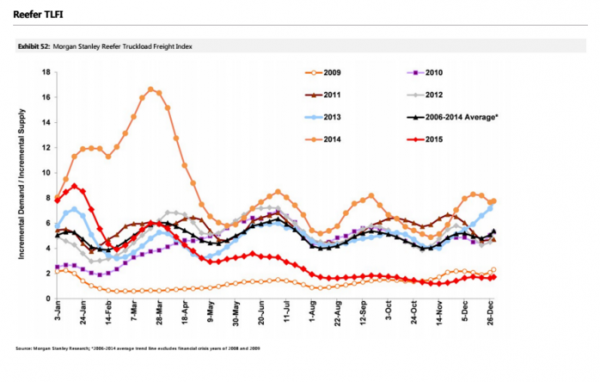 In short: this is the worst things have been since the crisis.
Importantly, note that the malaise is widespread. That is, you're seeing the same picture in flatbed, refrigerated, and dry van, which would certainly seem to indicate that demand for everything from foodstuffs, to building materials, to merchandise is simply collapsing. Here's a look at survey respondents' appraisal of the current situation and their outlook for demand going forward: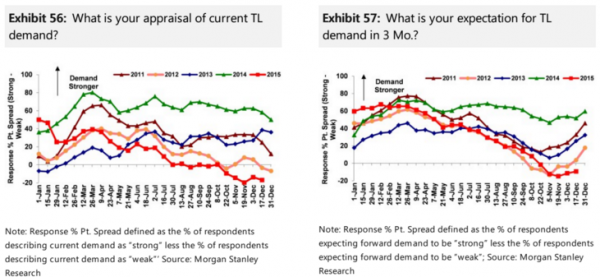 If, as one might suspect, this is a harbinger of what's in store for the economy in 2016, you can expect the Fed hike to be reversed in short order – with QE4 right around the corner.
Source: The Wheels Just Fell Off: US Trucking Has Not Been This Bad Since the Financial Crisis – ZeroHedge