By Tyler Durden at ZeroHedge
While we await the government's retail sales data on December 11, the last official economic report the Fed will see before its December 16 FOMC decision, Bank of America has been kind enough to provide its own full-month credit card spending data.
And while a week ago the same Bank of America disclosed the first holiday spending decline since the recession, in today's follow up report BofA reveals that if one goes off actual credit card spending – which conveniently resolves the debate if one spends online or in brick and mortar stores as it is all funded by the same credit card – the picture is even more dire.
According to the bank's credit and debit card spending data, core retail sales (those excluding autos which are mostly non-revolving credit funded) just dropped by 0.2% in November, the first annual decline since the financial crisis!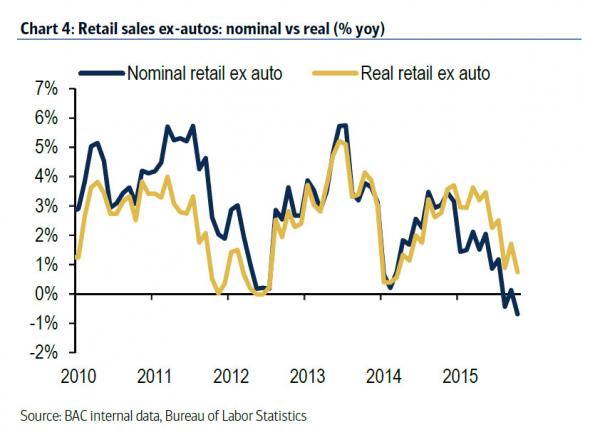 At this point, BofA which recently laid out its bullish 2016 year-end forecast which sees the S&P rising almost as high as 2,300, and is thus conflicted from presenting a version of events that does not foot with its erroenous economic narrative, engages in a desperate attempt to cover up the ugly reality with the following verbiage, which ironically confirms that a Fed hike here would be a major policy error and lead to even more downside once it is digested by the market.
Retail sales ex-autos are down 0.2% yoy. However, part of this weakness owes to a decline in prices. After controlling for deflation, real retail sales ex-autos are up 1.3% yoy in November, revealing a slowing trend but not an outright decline.

Much of the decline in the deflator is due to the drop in gasoline prices. The most recent drop in oil prices could imply there is another leg lower in gasoline prices as well.

Moreover, there are disinflationary pressures elsewhere, presumably reflecting pass-through from the stronger dollar, which could continue.
In other words, nominal spending down for the first time, and while "much" of the decline is due to gas prices, these are a tiny fraction of the overall spending basket. And then the punchline BofA throws in: "disinflationary pressures elsewhere."
To sum up: retail spending is now negative, and one can add deflation on top.
Can someone please explain to us again just what "data" the "data" dependent Fed is looking at, because we are lost…
Source: Credit Card Data Reveals First Core Retail Sales Decline Since the Recession – ZeroHedge