This is a syndicated repost courtesy of Money Morning. To view original, click here. Reposted with permission.
UnitedHealth Group Inc. (NYSE: UNH) CEO Stephen J. Hemsley unleashed a bombshell of Obamacare news when he announced that his firm is considering a 2017 exit from the exchanges created by the Affordable Care Act (ACA).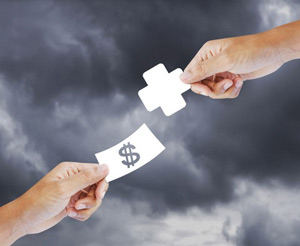 "We are evaluating the viability of the insurance exchange product category for us and will determine during the first half of 2016 the extent to which we can continue to serve the public exchange markets in 2017," Hemsley said in a Thursday morning conference call. UnitedHealth added that it would cut back on the marketing of its ACA plans.
UnitedHealth is the largest health insurer in the United States. For 2016, it offers Obamacare plans in 35 states and serves half a million customers.
In revising its 2015 earnings outlook downward from $6.25-$6.35 to $6.00, UnitedHealth blamed "pressure" of $425 million, or $0.26 a share, on losses from its Obamacare-related business.
"We cannot sustain these losses," Hemsley told analysts on a conference call. "We can't really subsidize a marketplace that doesn't appear at the moment to be sustaining itself."
This devastating Obamacare news confirmed suspicion that the major insurers aren't doing well with their ACA plans and eventually could follow UnitedHealth's lead in abandoning the exchanges.
"Every single one of the companies involved in this is going to have to do exactly what UNH did," said CNBC commentator Jim Cramer. "This is very damning for [the Affordable Care Act]."
UnitedHealth fell 5.6% Thursday and dragged down much of the health insurance sector with it. Cigna Corp. (NYSE: CI) dropped 5.4%, Anthem Inc. (NYSE: ANTM) fell 6.9%, and Aetna Inc. (NYSE: AET) lost 6.5%. Hospitals felt the pain as well, with Tenet Healthcare Corp. (NYSE: THC) shedding 8% and HCA Holdings Inc. (NYSE: HCA) falling 6.9%.
So what the heck is going on?
Frankly, it's something the ACA's critics have long predicted…
Why UnitedHealth's Obamacare News Is Not a Surprise
People with pre-existing conditions who use a lot of healthcare signed up in large numbers, as did low-income folks who previously couldn't afford health insurance. Anyone who makes less than 250% of the poverty line qualifies for a government subsidy to help pay for it.
Meanwhile, young, healthy people haven't bothered to sign up, figuring the tax penalty for not having insurance made more sense for them than paying a monthly premium. Making matters worse, some people signed up for an Obamacare plan just long enough to cover an illness, then dropped it.
That's why the number of people with Obamacare plans shrank from 11.7 million last year to 9.5 million now.
Without enough healthy people to cover the cost of the sick people using a lot of healthcare, many ACA plans have become big money losers.
UnitedHealth's stunning Obamacare news is not the first indication we've had that there's trouble brewing in the exchanges.
Other insurers, including Aetna and Anthem, have also said in recent months that their Obamacare plans aren't making money.
As a group, the healthcare insurers lost $2.5 billion on their Obamacare exchange plans in 2014, according to Ipsita Smolinski, managing director and healthcare analyst at Capitol Street.
And in August, The New York Times reported that 22 of the 23 nonprofit health co-ops created as lower-cost competitors to the commercial health insurers lost money last year. Four already have gone belly up.
The question now is what happens from here.
The Obamacare News on Exchanges Not Likely to Get Better
Recent trends point to the imbalance between healthy and sick customers getting worse. Premiums for 2016 rose 7.5%, and deductibles are soaring. That further discourages the healthy from signing up, even as the tax penalty increases. It's still much cheaper to go without insurance.
But as the imbalance grows worse, the Obamacare plans will lose even more money, forcing the insurers to raise premiums and deductibles again next year. Obamacare critics call this the "death spiral."
The government could help, but its hands are tied. Part of the Obamacare law specified a "risk corridor" in which the government would reimburse the insurance companies for ACA plans that lost money. That program has been underfunded because of the size of the losses, but in 2017 it goes away entirely.
That surely played into UnitedHealth's thinking. The company's dramatic Obamacare news was in part a message to the government: Fix the exchanges or we're out.
But the Obama administration seems to have its head in the sand.
"This year, people looking for coverage in the marketplace continue to have a robust number of plan choices and as the data shows, the marketplace is stable, vibrant and a growing source of coverage for new consumers. Today's statement by one issuer is not indicative of the marketplace's strength and viability," Ben Wakana, a spokesman for the U.S. Health and Human Services Department, said in response to the UnitedHealth announcement.
Many health insurance industry experts disagree and believe the Obama administration needs to make some changes before it's too late.
"I think it really is a wake-up call to HHS, to the White House to say, 'Look, these people are more sick, they're more expensive.' There are people coming onto the exchanges, maybe obtaining coverage for three, four months and dropping out," Smolinski said.
Given the optimistic tone of the Obama administration, it seems unlikely it will do anything that makes it look like it's "fixing" Obamacare.
"The pro-Obamacare people, including the administration and all of the supporters, have really talked themselves into the notion that Obamacare is well-designed and it's working," Robert Laszewski, president of consultancy Health Policy and Strategy Associates, told CNBC. "These people are in denial."
The Bottom Line: The Obamacare news that UnitedHealth is contemplating pulling out of the ACA exchanges in 2017 offered more evidence that all is not well with the healthcare law. Too many sick patients and not enough healthy ones is causing the insurers to lose millions of dollars. It doesn't look like that trend will change without intervention from the Obama administration, but so far it appears content to pretend that the ACA is fine. The situation will come to a head in 2017, when insurers lose the government payments that have mitigated their losses.
To get full access to all Money Morning content, click here
About Money Morning: Money Morning gives you access to a team of ten market experts with more than 250 years of combined investing experience – for free. Our experts – who have appeared on FOXBusiness, CNBC, NPR, and BloombergTV – deliver daily investing tips and stock picks, provide analysis with actions to take, and answer your biggest market questions. Our goal is to help our millions of e-newsletter subscribers and Moneymorning.com visitors become smarter, more confident investors.
Disclaimer: © 2015 Money Morning and Money Map Press. All Rights Reserved. Protected by copyright of the United States and international treaties. Any reproduction, copying, or redistribution (electronic or otherwise, including the world wide web), of content from this webpage, in whole or in part, is strictly prohibited without the express written permission of Money Morning. 16 W. Madison St. Baltimore, MD, 21201.
The post This Obamacare News Is One of the Law's Worst Omens to Date appeared first on Money Morning – We Make Investing Profitable.
Wall Street Examiner Disclaimer: The Wall Street Examiner reposts third party content with the permission of the publisher. I curate these posts on the basis of whether they represent an interesting and logical point of view, that may or may not agree with my own views. No promotional consideration has been offered or accepted. The opinions expressed in these reposts are not those of the Wall Street Examiner or Lee Adler and no endorsement of the content so provided is either expressed or implied by our posting the content. Some of the content includes the original publisher's promotional messages. The Wall Street Examiner is not familiar with the services offered and makes no endorsement or recommendation regarding them. Do your own due diligence when considering the offerings of third party providers.
The post This Obamacare News Is One of the Law's Worst Omens to Date was originally published at The Wall Street Examiner. Follow the money!