By Brian Baskin at The Wall Street Journal
Trucking companies are buying fewer vehicles amid lackluster demand for hauling freight, triggering job cuts among equipment manufacturers and leaving a near-record number of big rigs gathering dust on dealers' lots.
Many of those unsold trucks were ordered months ago when the economy appeared to be heating up and carriers were expecting higher bookings from retailers and manufacturers. Instead, slower growth this fall spooked fleet owners into scotching expansion plans.
Heavy-duty truck orders plunged nearly 37% in December from the same month last year, according to data compiled by industry research firm FTR. Some carriers say they are waiting to see how much consumers spend over the holidays before committing to new vehicles, which can cost more than $150,000 each.
The sharp slowdown in truck orders is one of the clouds hanging over the economy heading into 2016. Trucking companies are holding back to see whether consumer demand pushes new expansion. That hesitancy has manufacturers of trucks and parts cutting payrolls and scaling back production, even as sales of passenger vehicles soar and the wider economy is adding jobs.
Daimler AG this week said it would cut about a third of its 3,100 workers at a Cleveland, N.C., Freightliner truck assembly factory. Rivals Volvo AB and Paccar Inc. recently disclosed workforce reductions at their U.S. factories. Navistar International Corp. reduced its staff by 1,400 in its fiscal year ended in October. Engine maker Cummins Inc.said in October it would cut 2,000 jobs world-wide.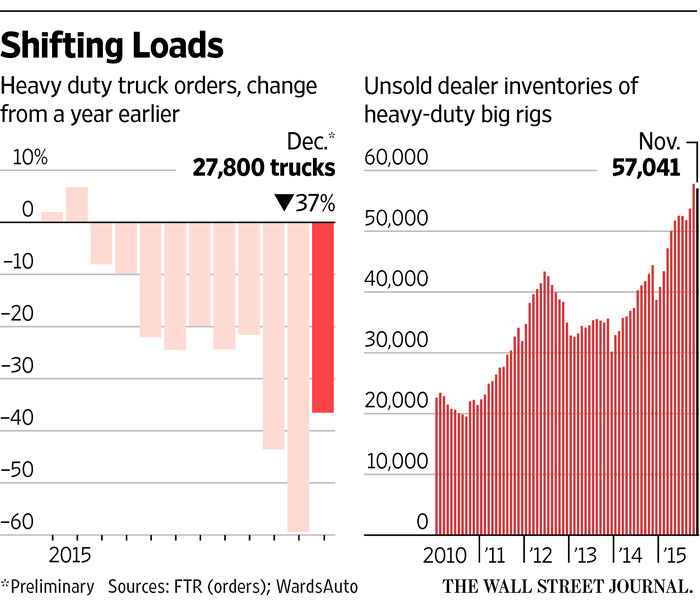 Meanwhile, dealers are stuck with over 57,000 unsold trucks, according to data provider WardsAuto Group, a number last surpassed in 2006. To entice reluctant buyers, some are offering cash rebates and no money down—incentives normally rolled out during a recession.
"It is a buyer's market," said Eric Jorgensen, chief executive of JX Enterprises Inc., which runs 19 truck dealerships in the Midwest. "We went from a situation where there seemed to be a shortage of equipment to one where there is more equipment on the road than what's needed."
Mr. Jorgensen, who also heads trade group American Truck Dealers, said his dealerships have 150 unsold new trucks, up from under 40 a year ago. He is allowing new customers to defer their first payment until March and offers a $2,500 rebate for parts and service. He last offered such incentives in the downturns of 2001 and 2009, and briefly in 2013.
Smaller trucking companies are most reluctant about placing orders, said John Hopkins,chief executive of Truck Center Inc., which operates seven dealerships in the Midwest and is acquiring two more. Some larger companies are scaling back as well. Swift Transportation Inc., the largest U.S. truckload carrier, in October said it would stop expanding its fleet, after growing by about 5% in the previous year.
Odyssey Logistics & Technology Corp., which operates a fleet of more than 300 trucks, ordered between 70 and 80 trucks this year but expects to buy half as many next year, said Glenn Riggs, the company's senior vice president of corporate logistics operations and strategy. Odyssey took advantage of strong customer demand to replace its older vehicles with new, more fuel-efficient models. But with freight volumes down and fuel about 30% cheaper than it was a year ago, there isn't as compelling a reason to plow so much money into upgrading its fleet, Mr. Riggs said.
"We got caught up and now we're looking to go back to normal" when it comes to ordering new trucks, he said.
Dealers, manufacturers and analysts are anticipating a between 10% and 15% drop in sales compared with this year. FTR predicts 260,000 new U.S. truck sales in 2016, saidDon Ake, commercial vehicles analyst the research group. Three months ago, FTR had projected sales of 290,000 trucks for the year.
In part, carriers have less incentive to upgrade to more fuel-efficient trucks now that diesel prices have plunged. Companies that placed large orders for new trucks last year sold their older models into the used market. That depresses resale prices, a factor in trucking companies' decision to trade in.
Truck makers say retail sales during the holidays will be crucial. Stores held unusually high inventories for much of 2015, a major factor behind this fall's weak freight volumes. Truck orders picked up in December from November's lows, indicating the market may be stabilizing, Mr. Ake said.
"Our safety net is the macro economy," said Dennis Slagle, president of Volvo Group Trucks North America, which markets vehicles under the Volvo and Mack brands. "If you believe in 2% or 2.5% growth next year, that means a lot of trucks running around."
In December, Volvo reported North American heavy-duty truck sales fell 2% in November from a year earlier to 4,970. For the year, its sales were up 14%. Navistar reported a 20% decline in heavy-duty truck sales in North America in its fiscal quarter ended in October.
Volvo's Mr. Slagle said he expected the industry would need three to six months to work through inventories of unsold trucks before bouncing back.
When that recovery comes, however, it is likely to be fast, analysts say. Truck makers will need several weeks to train new workers before they can raise production, meaning distribution channels for trucking customers could get backed up while order backlogs quickly swell if freight demand picks up.
"You can't double production in a day," said Jeff Sass, senior vice president of North America truck sales and marketing at Navistar.
Source: Sales Downshift at Heavy Truck Makers – The Wall Street Journal