By Tyler Durden at ZeroHedge
Last week we identified a "bargain" in Canadian real estate.
As you might recall, the Canadian economy is in a bit of a tailspin, and that goes double for the country's dying oil patch. Indeed, we've documented Alberta's painful experience with slumping crude exhaustively, noting that the steep decline in oil prices has triggered job losses (which hit their highest level in 34 years in 2015), depression, suicides, soaring food bank usage, and a marked uptick in property crime.
Through it all, parts of the real estate market in Canada remain red hot. In stark contrast to the millions of square feet of office space sitting vacant in beleaguered Calgary, Toronto and Vancouver are on fire.
Housing sales in the Toronto area rose 8.2% last month from a year earlier. The average selling price: $631,092.
In Vancouver, the numbers are simply astonishing. Residential property sales in Greater Vancouver rose 31.7% in January. That's 46% above the 10-year sales average for the first month of the year and the second highest January ever, the Greater Vancouver Real Estate Board notes. The benchmark price for a detached home in Vancouver: $1,293,700. The benchmark price for an apartment: $456,600.
But it gets still crazier. The "benchmark" price represents what the Real Estate Board says a "typical" home would go for on the market. If we simply take the arithmetic mean (i.e. the average), the numbers are even more astounding. As CTV news reports, the average selling price of detached homes was much higher last month – at an astronomical $1.82 million.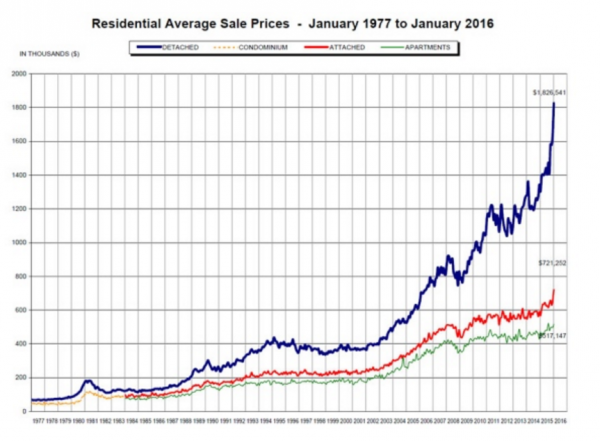 "Home buyer demand is at near record heights and home seller supply is as low as we've seen in many years," REBGV President Darcy McLeod said.
So a seller's market. Got it.
In fact, it's such a seller's market that as we showed last week, prices on "fixer uppers" have gone through the roof. Here's what you can get for $2.4 million in Point Grey: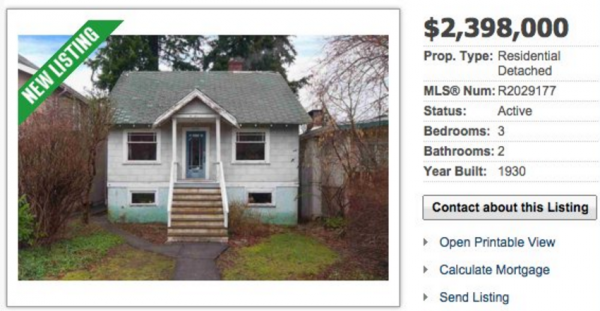 As CTV news also reports, the house shown above is actually in one of Vancouver's most desirable neighborhoods that's home to "A-list neighbours include Lululemon founder Chip Wilson and celebrity environmentalist David Suzuki."
So "location, location" we suppose.
There are couple of rather obvious questions that come to mind when assessing all of the above. First, what happens if Canada's recession deepens amid a protracted slump in oil prices? You certainly don't want to be in a position wherein you've paid $1.9 million for a home just prior to getting laid off. After all, the debt service burden is already quite high in Canada: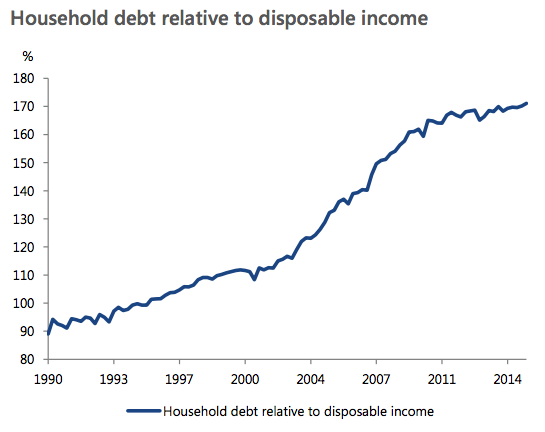 Also, who in the banking sector is most exposed to this lunacy? This quite clearly isn't sustainable, especially given the outlook for the Canadian economy, so who on Bay Street is on the hook?
Finally, we wonder if there are exogenous factors at play here. That is, is this all domestic demand or could it be that "Mr. Chen" is effectively arbing the inexorable CAD decline versus USD on the way to funneling Chinese money into Canadian real estate thus driving up prices? We close with a simple flow chart.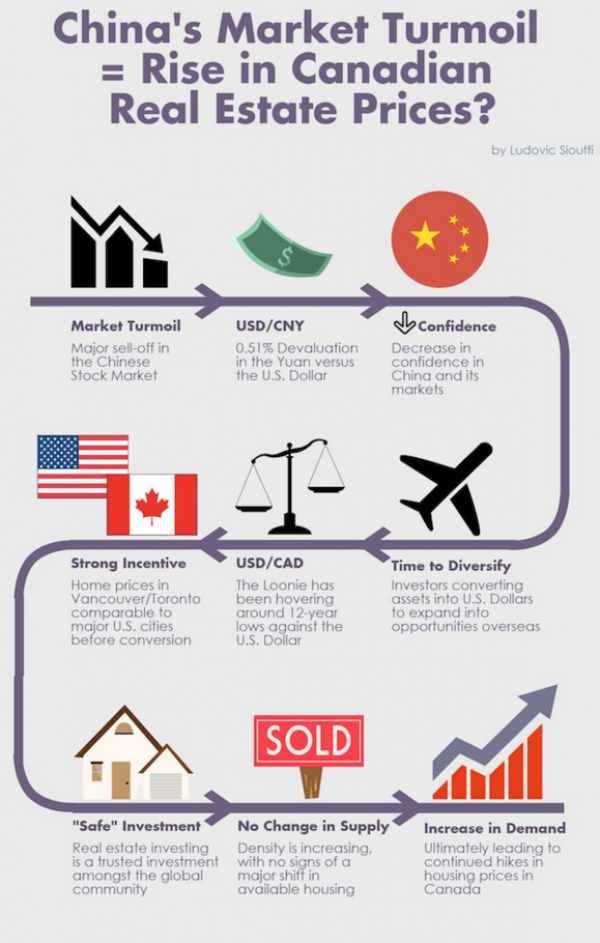 Incidentally, British Columbia is now studying the level of foreign investment in the real-estate market. "I think with more data, we'll be able to get a grasp on how to address it better because affordability, especially in the city of Vancouver, less so in the suburbs but certainly there as well, is a real issue and we have to find ways to address it," Premier Christy Clark said Monday.
Source: Vancouver Real Estate Goes Full-Retard; Average Home Price Now $1.8 Million – ZeroHedge