By Victor Reklaitis at MarketWatch
The new year is beginning with a mauling for many investors, as Chinese stocks fell so sharply Monday that they triggered a trading halt.
Following China's lead, Dow futures have wallowed more than 300 points in the red. "Investors are not going to like the start of this year," says Naeem Aslam, AvaTrade's chief market strategist, in a note.
Today's call of the day fits the bearish mood that's dominating 2016's first trading session in the early going.
The new year brings a "possibility that the 'stealth bear market' we have been in for 6-9 months is revealed as a true bear market," says Jonathan Krinsky at MKM Partners in a note.
MKM's chief market technician warns the median stock in the Russell 3000 RUA, -2.26% , which represents 98% of the U.S. stock market, is "now down over 20% from its 52-week high." So his shop's "base case for 2016 is that the weakness seen at the stock level finally makes its way to the cap-weighted index level," meaning main benchmarks like the S&P 500 SPX, -2.09% and Nasdaq COMP, -2.55% . More from Krinsky below.
The key level of 1,900 is where a slumping S&P 500 could find buyers, says Ari Wald, technical analyst at Oppenheimer & Co. He sees the index falling to that spot in the first quarter, but he's then bullish for the rest of the year — predicting the S&P ends 2016 at 2,250 after closing out 2015 at around 2,044.
In a note offering key numbers for the new year, Wald also sees WTI crude finding support at $32 a barrel.
But getting back to today's bearish action, the chart of the day shows just how ugly that drop in China was. Analysts found plenty of culprits for the plunge: soft Chinese manufacturing data, a weakening yuan, the new circuit-breaker system for Chinese stocks and the upcoming end of a ban on share sales by major holders.
The call
2015 was all about "a very small number of stocks" having a great year, while the majority had a very poor year," says MKM's Krinsky in his note out Sunday. He says this was "often referred to as the 'Stealth Bear Market.'"
He highlights the Value Line Geometric Index, an equal-weighted gauge tracking about 1,700 stocks. "This index is down nearly 15% from its 52-week high made in April 2015," writes Krinsky, who offers the chart below showing that Value Line benchmark. "Note how poor the rally was off the August lows, and the index is now just 3% above those respective lows."
So no wonder he summarizes his outlook for 2016 with "The stealth bear is revealed." Where to hide from that bear? Krinsky advises going overweight on tech stocks XLK, -1.98% , consumer staples XLP, -1.74% and utilities XLU, -0.62% — and he's bullish on sugar and cocoa, too.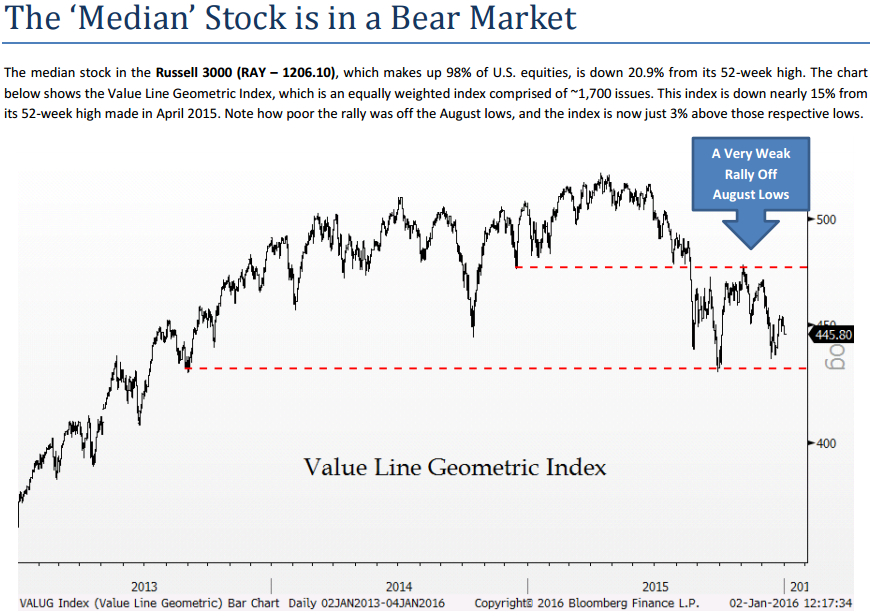 Source: Warning: The 'Stealth Bear Market' is about to show its teeth – MarketWatch