By Tyler Durden at ZeroHedge
It was exactly one week ago today when we reported that Guo Guangchang, a self-styled Chinese Warren Buffett worth some $7 billion, had disappeared.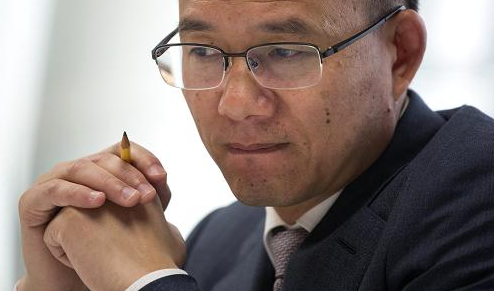 For those who follow developments in China's capital markets, it was obvious what had happened. Guo was swept up in Xi's campaign to root out misconduct tied to the country's equity market meltdown and subsequent government-engineered rescue effort.
Dubbed "kill the chicken to scare the monkey," the witch hunt has ensnared a number of high profile government officials and bankers tied to Beijing's plunge protection "national" team, which poured in excess of CNY1.5 trillion into Chinese stocks in Q3 in a desperate attempt to push back against an epic unwind in the half dozen backdoor margin lending channels that helped push stocks to nosebleed valuations earlier this year.

Guo's detention (he was allegedly met by authorities when he arrived in Shanghai on a flight from Hong Kong) sent shockwaves through Chinese markets. "His disappearance will fuel anxieties in the private sector that the anti-corruption crackdown launched by President Xi Jinping three years ago is being extended to high-profile entrepreneurs," FT noted last week.
Guo has since resurfaced, but the crackdown – which, you're reminded, is led by Fu Zhenghua, a former Beijing police chief responsible for orchestrating an infamous prostitution bust, a campaign against "popular bloggers whose sometimes anti-establishment comments drew the ire of party leaders," and a decree prohibiting police officers from drinking alcohol outside of their homes – continues unabated. On Thursday, we get still more details about Beijing's comical crusade courtesy of WSJ who notes that the focus of the probe has shifted squarely to members of the national team.
"Communist Party graft busters have been taking officials, one by one, to a hotel close to the [CSRC's] headquarters to press them to come clean or report on others," The Journal says, adding that "the investigators also have set up shop on the top floor of the agency's 22-story headquarters in downtown Beijing, banned agency officials from leaving China and set up a hotline and red mailbox in the lobby for anonymous tips."
We're also now beginning to understand the connection between Guotai Junan Chairman and CEO Yim Fung, Citic executives Jun Chen, Jianlin Yan, Xu Gang, hedge fund manager Xu Xiang, and CSRC vice chairman Yao Gang. Here's more from The Journal:
Authorities have arrested or put under corruption probes major figures including executives at well-connected brokerage Citic Securities Co. and a highflying hedge-fund boss suspected of insider trading.

The CSRC has grown in importance as China's leadership seeks to turn the nation's underdeveloped capital markets into a viable corporate funding source. 

The top official accused so far is Yao Gang, 53 years old, until recently its vice chairman and a rising star within the party.

On Nov. 13, the commission said Mr. Yao was taken away for "suspected serious violation of party discipline."The officials with knowledge of the matter say investigators are probing whether Mr. Yao leaked classified information about the government's market rescue to executives at brokerages including Citic Securities and Guotai Junan Securities Co. so they could buy stocks before they were purchased by state funds.

"The focus of the investigation is on him potentially having enabled those big brokerage executives to make a killing at the expense of the nation's interest," one of the officials said. "Another question is whether he received any personal gains in return."
Apparently, Yim Fung has known Yao Gang for at least 15 years. Both worked at Guotai, and "they've been friends since then." Beijing is also probing CFS, the state-sponsored margin lender under CSRC's control.
At this point, it's not entirely clear what Xi is trying accomplish. We already know selling and especially short selling can "get you buried real quick" (to quote Black Mass) in China, and it now appears front running (in this case buying ahead of the plunge protection team) is a one way ticket to a Politburo prison as well.
With 15% of the market still halted, and with further yuan turbulence dead ahead, China may want to consider whether abducting executives and hauling them off to clandestine interrogation sessions in hotel rooms is the right approach when it comes to promoting the liberalization of capital markets and projecting the "right" image to the rest of the world on the eve of the yuan's SDR inclusion.
Source: We Disappeared Some Folks: Details Emerge in China's Sweeping Probe of Stock Market Rescue – ZeroHedge