It has become an unshakable article of faith that every customer lost by McDonald's is one gained by any number of the "progressive" fast food chains that have arisen in the past decade. The common competitor cited is Chipotle; so much that searching for the two restaurant names together results in thousands of versions of what are really the same article. The premise is simple enough and certainly quite plausible. Why pay about the same at McDonald's when you can go elsewhere for better quality?
And McDonald's has been losing business at a terrifyingly steady rate. Starting curiously and conspicuously with the 2012 slowdown, same store sales at first slowed almost to a standstill before starting the steady erosion toward the end of 2013. Coincident to the "rising dollar" of June 2014, the contraction has only gained even though there exists no currency translation with US same store results ("dollar" as economy).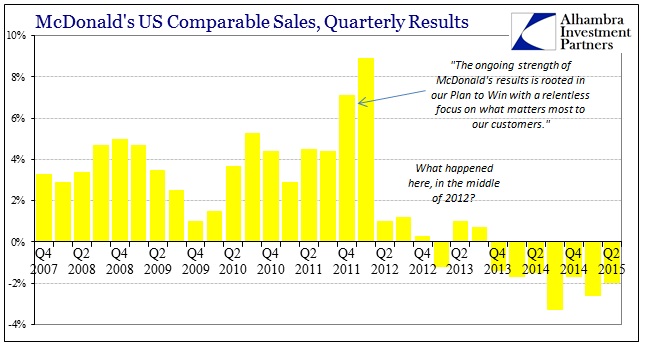 As that decline intensified, these Chipotle comparisons only multiplied. When McDonald's reported US comparable store sales of -4% in February 2015, this was common:
What McDonald's stopped just short of saying is that it desperately needs to become more like the "modern, progressive" chains that are decimating its sales and market share. Chipotle. Five Guys. Shake Shack. Everything fast-casual and "better burger." It's no secret that Americans have fallen out of lovin' with fast-food, and McDonald's is acutely aware of this. What it doesn't seem to know is how to fix it.
There might be a more overriding reason MCD doesn't know how to fix it, and it may not have much to do with Big Macs. A month later, when Q1 same store sales were worse than thought, the same premise was more forcefully repeated:
The world's biggest restaurant company continued to grapple with problems that have bedeviled it for the last few quarters, as detailed in a Fortune profile in November: changing consumer tastes, an overly complicated menu, stiff competition from fast-casual chains such as Chipotle Mexican Grill and Panera Bread, and the lingering effects of a food scare last summer in Asia.
Like IBM, this was surely a lumbering, established company getting beaten into its already mature stage by youthful and invigorated competition. It could not possibly have been an economic shift in consumer resources or propensity because, as we are told incessantly, the economy has only gotten better. Thus, an "empowered" consumer by at least the Establishment Survey was seemingly eating better as confirmation.
And that, in a narrow sense, did seem to be the case – at least until Q3 last year. Chipotle's comparable sales figures were right on that point. The number for Q3 was nearly +20%, which, again, seemed to validate the preference premise. It sure did seem as if McDonald's customers were finding themselves alternately in line for a burrito. Since then, however, Chipotle has only struggled, with comparable sales that are testing flat once more. Registering just +4.3% in Q2 2015, the latest result was +2.7% in Q3.
That rate places the latter part of 2015 so far within the category of the company's poorest results like those of the Great Recession or the trough of the 2012 slowdown. Worse, the pace and deceleration of that shift is alarming. The company itself gave no indication as to why sales have suddenly slowed. Needless to say, this has left "analysts" perplexed, especially given the certainty with which the "from McDonald's" narrative was embedded.
Chipotle, long the star of the fast-casual world, has enjoyed lofty same-store sales growth for years. Yet a recent downward trend has led some investors to question whether the incredible clamor for Chipotle burritos is leveling out.
A burrito fad? Perhaps, but you know there isn't much of a case when Chipotle is now being rethought as already the next McDonald's. Not much reign at the top.
Among the challenges Chipotle has faced is increasing competition from other restaurants and a supply chain issue that forced it to pull the beloved carnitas from its menu for months. The menu item is now back in 90% of Chipotle's locations and will be in all restaurants by the end of November.
Chipotle only a few months ago was that competition. This shift yet again might be valid, but it seems far simpler that consumers are just progressing as the economy – downward. They left McDonald's as a matter of cost (beef prices, after all) but now aren't so much enamored with the scale regardless of quality. Even Panera's same store results have come down after a promising start to the year, with analysts estimating 0-3% for Q4, down from nearly 5% in July. August was, obviously, August:
One caution sign for future growth is the National Restaurant Association's Restaurant Performance Index (RPI) for August — a monthly survey of restaurant operators' expectations. The latest RPI showed weakness due to softer same-store sales and customer traffic levels.
It is, in the end, remarkable the similarities between fast food from MCD's perspective and technology as viewed from IBM. There is undoubtedly an evolution taking place within each industry, yet that doesn't "prove" a healthy economy; instead, it may just as likely be a result of an unhealthy economy that is getting worse by the day and the "dollar."