By Tyler Durden at ZeroHedge
March NFP 215K: Retail stick-save as Signs of Weakness Pick Up
A broadening Industrial recession was offset by solid service payrolls, led by Retail. Taken at face value, the breadth of growth signals a steady-as-she-goes economy.
But there are reasons to doubt the figures, starting with Retail. In the BLS model, retail is hitting a major growth spurt unlike anything seen in a decade.  In the real economy, the Retail sector's growth is slowing.
Also troubling is the continued contraction in temp worker payrolls. Sometimes that's a sign of conversion of part-time workers to full-time workers, but that's not what's going on.   Even one-offs like Personal Laundry (+5K) and Landscaping (+12K) couldn't push Private Payrolls above 200K.
Industrial Recession Broadens
SouthBay View coming into March: Energy sector cuts at slower pace, Manufacturing Cuts at faster pace
Actual: Energy sector (-12K), Manufacturing (-29K) compared with (-8K) in February
Key point: Payrolls dropped in almost every manufacturing sector, and machinery led the way (-6K).  A strong sign that 2H Industrial production is poised to contract further as investments in factory production are dropping at a faster pace.
Retail Was Strongest Factor +48K: Dubious Achievement Award
BLS sees a Retail Renaissance
Despite a lackluster holiday sales season and massive big box store closures, despite major 1Q hiring companies like Home Depot reporting flat hiring plans, the BLS model reports 181K payrolls added in 1Q 2016. 
To put that into context:
Best 1Q ever
Better than the entire annual Retail payroll growth for 2014; 2/3s the level of 2015
Fewer stores than ever, more big-box store closings, weak sales. And yet, most hiring ever. Hmmmmm…..
This is shown in the chart below: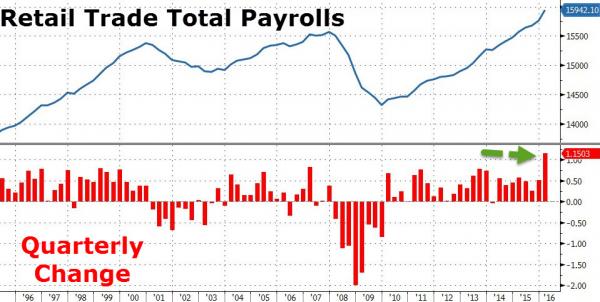 Elsewhere:
Employment Services Negative 2 months in a row
Demand for temp worker support continues to slump.  (-6K) in March
Healthcare remains Strong:  +44K
Leisure & Hospitality remains Strong 40K
As expected slight easing in the Restaurant payroll adds (from 37K in February to 26K in March)
Source: Why One Economist Doesn't Believe the March Jobs Number – ZeroHedge