By Steve Goldstein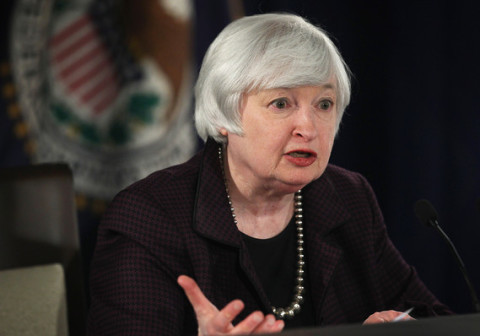 Not Trump's favorite central banker: Janet Yellen. GETTY IMAGES
Even with two years remaining in her term, Federal Reserve Chairwoman Janet Yellen may quit if Donald Trump is elected president, an economist argued on Tuesday.
Paul Ashworth, chief U.S. economist at Capital Economics, said in a note to clients that Trump doubled down on criticism of the Fed during his debate with Hillary Clinton.
Trump said the U.S. economy is in a "big, fat, ugly bubble" and specifically called out Yellen.
"And we have a Fed that's doing political things. This Janet Yellen of the Fed," he said. "The day Obama goes off, and he leaves, and goes out to the golf course for the rest of his life to play golf, when they raise interest rates, you're going to see some very bad things happen, because the Fed is not doing their job. The Fed is being more political than Secretary Clinton."
Ashworth noted that, after the last meeting, Yellen fought back against earlier charges by Trump that the central bank was acting in a politically motivated manner.
"But frankly the veracity of Trump's claims are irrelevant," Ashworth says. "It doesn't even matter if Trump himself believes them. If those claims are made publicly to a viewing audience of up to 100 million Americans, and a majority of those Americans then go on to vote for Trump in November's election, then what choice does Yellen have?"
He said Yellen could quit ahead of the December meeting of the Federal Open Market Committee, when the central bank is expected to lift interest rates for the first time since last December.
First Presidential Debate in Three Minutes Donald Trump and Hillary Clinton faced each other for the first time Monday in Hempstead, N.Y. Watch highlights of the presidential debate in three minutes. Photo: Getty
"The likelihood is that he would continue with his public criticisms of the Fed in the run-up to that meeting, arguing that a rate hike would be a political attempt to damage the economy ahead of his presidency. The main reason for believing that Yellen would resign almost immediately is that falling on her sword would take some of the political heat off the rest of the FOMC," Ashworth says.
He added that Vice Chairman Stanley Fischer would be "a perfectly safe pair of hands" until the Senate confirmed Trump's nominee.
The irony, Ashworth says, is that Trump would in turn be more likely to nominate someone who would bow to political pressure — and leave interest rates lower for even longer than the Yellen-led Fed would have done.